Great location
20 minutes from Prague center.
Comfy transfers
Free hotel pick-up & drop-off.
Action & fun
Ultimate adrenaline experience.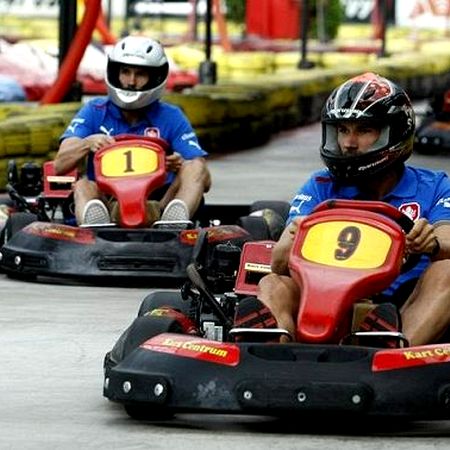 from CZK 1,200 / €46
It only takes 2 minutes to book
Confirmation within 15 minutes
Book now to secure your spot
What is included
Pick-up & drop-off • on your preferred address
Both-way transfer • in an air-conditioned minibus
Instructor • the constant presence of an English speaking professional
Briefing • safety instructions
Equipment • go-karts, petrol, helmet, driving gloves
Driving action • two or three 10-minute rides
Racing results • printed after each ride
Refreshment • beer, wine, or soft drink
Wonderful experience and an extremely helpful instructor!

Absolutely phenomenal experience! Will go soon again

Super professional, good ambience and very good feeling! It was really a cool thing!

I can unreservedly recommend this provider.

Recommend to anybody who wish to get his adrenaline pumping.....I really loved it

The karting was brilliant, the course was great and the cold beer at the end was well worth it!!

Great day out for a stag party.

It was awesome. Me and both my boys had a great experience.

Awesome day karting. A must do while in Prague!!!

Attentive service. Wonderful atmosphere.
2 Go-Karting packages
2–2.5 hours total (from pick-up to drop-off)
2 rides • each ride lasts 10 minutes
Price per person
CZK 1,200 / €46
2.5–3 hours total (from pick-up to drop-off)
3 rides • each ride lasts 10 minutes
Price per person
CZK 1,500 / €59
The minimum height requirement is 130 cm. For children of 15 years or under, a 300-meter-long track is available.
When & where
All year round: pick-up available daily from 9 AM to 10 PM
Prague, 20-minute ride from the centre
2–3 hours total (from pick-up to drop-off)
A fantastic experience, at a competitive price.

Had a great time shooting, never knew the blowback was that hard!! Had fun in the go carts too.

Staff was extremely helpful and kind, very professional yet fun. So glad we came here!

This place has been an incredible experience! Can only recommend!

💪🏻💪🏻

Had an amazing experience the first time going, so we went back again the next day.

So much fun in a safe environment with friendly staff. Can't recommend this tour enough!

Just back from the Shooting and Go carts!! It was brilliant and so much fun.

It was an amazing trip, my family enjoyed it very much. The instructors were great.

Shooting and go karting was lots of fun, recommended!

Excellent! Top instructor, explained everything in detail and was very attentive. Gladly again.
Description
Enjoy the real racing on the go-kart track with up to 14 go-karts in the high-tech indoor circuit with the timing projection, open daily till midnight!
Test your driving skills to the limit in the Subaru go-karts (200 cm four-stroke, 5.5 hp engines) capable of speeds up to 40 km/hour (25mi/h). Race with your friends in an area of 1,000 m2 (33,000 ft2) on a 910 m (3,000 ft) long track with 30 curves, wide enough for overtaking or passing the wrecked and slower ones.
Each driver will get to operate these powerful go-karts and compete with his mates in 2 or 3 separate 10-minute races, with a break and time for a drink between each ride. As the scoring system is controlled by a computer set located on each go-kart, after the ride, you will be given a printout of the record list of all competitors by laps, number and the speed of laps, the best time, total time and order in the finish.
So put on your helmet, fasten your seat belt, and press the accelerator to the floor!
Pick-up in Prague
Your driver picks you up at your preferred address in Prague.
Ride there

20–30 minutes

Sit back and relax in an air-conditioned minibus on the way to the go-karting area.
Briefing
Your English-speaking instructor gives you a safety briefing.
Racing

45 minutes–1 hour and 15 minutes

Put your helmet on, fasten your seat belt, and press the accelerator to the floor!
Celebration
Enjoy a drink and compare your racing results with your mates.
Ride back

20–30 minutes

Your driver takes you back to your chosen address in Prague.
Drop-off in Prague
Embark on another Enjoy Prague experience, or simply enjoy the rest of your day in Prague!
Notes
Wear comfortable clothes and tight shoes.
82 customer reviews


We arrived in to Prague on the Friday and wanted to do things at our own time and came across 'Enjoy Prague' we picked the shooting range and go karting and the team were very good and finding us space. Being picked up and dropped off at the hotel was great, both drivers on time and. Very friendly. When we went to the go karting Peter was very helpful he made sure to get the tokens, a locker for our stuff and drinks. We had fun using 'Enjoy Prague' and would recommend everyone to use them.


Michal and the team deserve great credit for the event. Booked for a stag do and everyone enjoyed themselves. Would definitely recommend him and the team for anyone who wishes to go Go Karting in Prague. Thank you very much, you didn't disappoint!


Fantastic experience. Tony, our guide, was great! We went go karting in the day of the Prague half marathon and he managed to negotiate all the road closures and still got us to karting at the right time!! The karting was brilliant, the course was great and the cold beer at the end was well worth it!!


Group of 6 we decided to do shooting and go karting. They picked us up and dropped us off at our hotel or anywhere we wanted. The service was excellent and on time. We recommend the shooting if you are in Prague call them, they ask for a deposit first but once you paid that they email you to confirm the booking. Will use again when visiting Prague. Thank you.


We went shooting and Go-Karting, everything was organized really, really well. Got picked up at the hotel, and they paid a taxi to bring us back afterwards. Shooting and gokarting was lots of fun, recommended!
More about Go-Karting
The go-karting track is in a glasshouse providing great natural light conditions. The go-karting area includes a restaurant offering excellent cuisine, grilling on an open fire, a bar with a rich selection of drinks, and a good track view. For spectators, there is also a large screen showing the lap times and positions of riders.
With its superb racing facilities and catering services, state-of-the-art race computer systems, and a fleet of expertly prepared go-karts, you can be assured of the thrills of the wheel-to-wheel action.