Free transfers
From Prague's centre to the airport & back.
Top skydive technology
Unique balance of safety & fun with certified skydivers.
Operates daily
All inclusive trips departure hourly.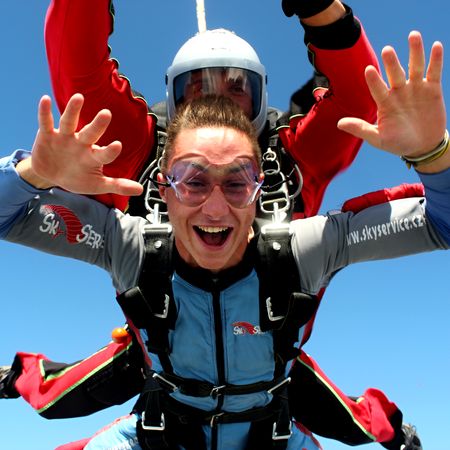 from CZK 5,000 / €210
It only takes 2 minutes to book
Confirmation within 15 minutes
Book now to secure your spot
What is included
Instructor • English speaking professional skydiver
Cameraman • an optional choice of the jump recording
Briefing • safety instructions and tandem jump simulation training
Equipment • skydive suit, protective goggles
Flight • 20-minute sightseeing flight
Tandem jump • from 4,200 m (14,000 ft)
Free fall • 1-minute free falling at 200 km/h (125 mi/h)
Parachuting • 6-minute sky cruising with an open parachute
Presents • unique tandem jump T-shirt and diploma
Transfers • in an AC minibus from & to our office in Prague center
Exceptional experience. I would love to go back next time in Prague.

I decided to go for Skydiving (Tandem Jump). Well for me it was a dream coming true. It was a great experience! Great job guys!! :)

Friendly staff and sky diving and shooting activities were really fun.

We did skydiving and gun shooting, both experiences were really amazing. Martin and Tony gave us a very warm reception.

Excellent! Top instructor, explained everything in detail and was very attentive. Gladly again.

Super professional, good ambience and very good feeling! It was really a cool thing!

The experience is so amazing. I loved every bit of it.

Absolutely phenomenal experience! Good communication during the booking process and great guys on the range. Will go soon again

Staff was extremely helpful and kind, very professional yet fun. So glad we came here!

Attentive service. Wonderful atmosphere.
3 Tandem Skydiving packages
Book with a €40 per person deposit (upon confirmation) and pay the rest on the airport. Cancel for a full refund up to 24 hours before the event.
Price per person
CZK 5,000 / €210
Price per person
CZK 7,500 / €313
Price per person
CZK 8,000 / €335
When & where
Apr–Oct: pick-up available daily from 8 AM to 4 PM
Most Airport, 75-minute ride from the centre of Prague
5 hours total (from pick-up to drop-off)
The best two hours in Prague!

I can unreservedly recommend this provider.

It was awesome. Me and both my boys had a great experience.

Had an amazing experience the first time going, so we went back again the next day.

This place has been an incredible experience! Can only recommend!

💪🏻💪🏻

Totally worth it! One should definitely do it, undoubtedly!

Great service from A to Z! Easy to book and the staff is friendly and very professional.

For me, this is going to be a memorable experience for the rest of my life...

So much fun in a safe environment with friendly staff. Can't recommend this tour enough!

Great experience, very professional, amazing service.
Description
Feel the excitement of free falling through clouds, and experience an adrenaline rush, unlike anything you've ever experienced before.
Safely attached to an experienced tandem-pilot, with a tight harness, you will jump from a modern PAC 750XL aircraft at the Most airport.
The plane will climb to an altitude of 4,200 m (14,000ft), which will take about 20 minutes. Meanwhile, you can relax and admire the beautiful Czech countryside from above. When you are cruising at 4,200m, a green light will flash, the door will open, and as your heart stops for a moment, off you go and JUMP!
Free falling for about a minute, at a speed of more than 200km/h,(125m/h) you will drop to a safe height of 1,500m(5,000 ft) before your instructor opens the parachute. Once the parachute is open, you'll cruise the sky for another 6-8 minutes before landing softly and safely on the ground.
Pick-up in Prague
The driver will pick you up from our office in Dlouha street 6, Prague 1. For €16 (per a group) is the pick-up available from any address in Prague you choose.
Ride there

1 hour and 15 minutes

On the drive to the skydiving drop zone, you can sit back and relax in our air-conditioned minibus.
Briefing

15 minutes

Your English speaking tandem pilot will teach you all about safety.
Gear

10 minutes

You will be given the complete and protective gear you will need for your skydive.
Flight

20 minutes

Enjoy seeing the beautiful countryside from above, as you prepare to jump.
Tandem jump

10 minutes

Now's the time for some fun and the most amazing adrenaline rush ever!
Celebration
You will receive your diploma and a skydiving T-shirt.
Ride back

1 hour and 15 minutes

The driver will take you back to our office in Prague. For €16 is the drop-off available at any address in Prague.
Drop-off in Prague
Embark on another "Enjoy Prague" experience, or simply spend the rest of your day wandering the beautiful streets of Prague.
Notes
The weight limit for the tandem jump is 40–130kg (88–290lb). Due to the need for special gear, there is a charge for the weight over 96 kg. It is €12 / CZK 300 for the weight from 96 to 105 kg, €20 / CZK 500 for the weight from 106 to 110 kg and €40 / CZK 1000 for the weight from 111 to 130 kg)
141 customer reviews


Friendly and professional instructors. Loved it! Totally recomended!


The skydiving was insane and my instructor George was simply the best

😘


I went for the horse riding and skydiving. Both trips were amazing, all the stuff very friendly and helpful, I had lots of fun. Everything very well organised, the online reservation was really easy and they even picked me up at my hotel and dropped there off after. For the skydiving I chose the option with the video and pictures, wchich was totally worth the money as I have really cool photos now. Thank to the whole Enjoy Prague team, you were great


We did skydiving and gun shooting both experiences were really amazing . Martin and tony gave us a very warm reception


Top marks. Second time I've used them and both times GREAT communication via email, txt and in person. GREAT experience each time. This is how customer service is done correctly. I will use again and again when I come back. Thanks to all staff I dealt with.
More about Tandem Skydiving
If you desire, your whole experience from the briefing to the landing can be recorded and photographed by an experienced cameraman. He will jump from the plane with you, capturing every unforgettable moment. We will then edit the footage for you and add sound for a better effect.