Adrenaline rush
Really great fun on the water.
Pick-up & drop-off
Transfers from your hotel to the venue and back.
All inclusive packages
Get all you need to enjoy flyborading to maximum.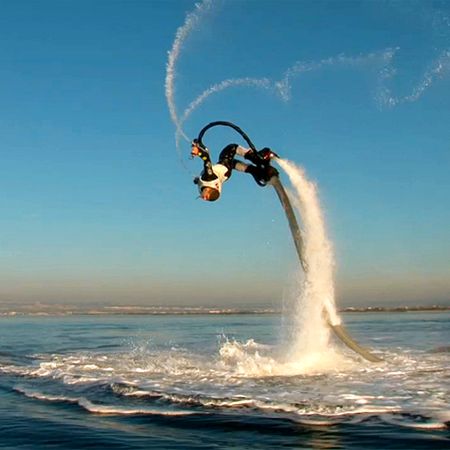 from €90
It only takes 2 minutes to book
Confirmation within 15 minutes
Book now to secure your spot
What is included
Pick-up & drop-off • on your preferred address
Both-way transfer • in an air-conditioned minibus
Instructor • constant presence of an English speaking professional
Briefing • safety instructions
Equipment • wetsuit, lifejacket, helmet, shower facilities
Refreshment • mineral water
Brilliant day, would highly recommend for a memorable experience.

Totally worth it! One should definitely do it, undoubtedly!

Absolutely fantastic service and great fun!!

Loved it, if ever in Prague again i will be definitely returning.

Outstanding experience! I'll 100% return to Prague and participate again!

Had an amazing experience the first time going, so we went back again the next day.

Great day out for a stag party.

Amazing attractions and people... It's worthy.

My brother and I had never been flyboarding before and the experience was awesome!

Great experience, thank you Martina and Evzen and the instructors. Great customer service, pick up and drop off, amazing staff.
When & where
May–Oct: pick-up available daily from 9 AM to 5 PM
Vltava River, Prague South, 45-minute ride from the centre
3–4 hours total (from pick-up to drop-off)
Amazing experience, would definitely recommend to others. Really quick to reply to your booking to confirm.

Amazing experience!!! Very recommended :)

All in all was a great experience. It was so easy to book online and communicate with them by email.

Had a fabulous experience with Enjoy Prague. Very professional guys, great instructor, good fun. Must do experience.

Thank you so much guys for such amazing service, I love Prague because of you. I'll be back soon to finish all your adventure .

It was an amazing experience. Pickup from the hotel and back to the hotel. I Highly recommend it.

Very good communication before I arrived. Flexible. Good recommendations.

The pick up by Tom was on time and communication with Martina was excellent!

Best costumer service ever!!!!
What to expect
The Flyboard is very intuitive, similar to learning to ride a bike, water-ski, surfing, skating or any other activity that requires a little balance.
Usually after few minutes learning with the instructor you can already control the Flyboard very easily, move under the water and challenge the gravity flying in the air!
The Flyboard is connected to a jet ski, where sits an instructor and with the help of detracting and adding a gas, he is pushing the water into the nozzles of this apparatus and this way he can correct you, if it is necessary. This method allows a better flight precision and its intuitive use provides you exceptional sensations with the Flyboard.
Pick-up in Prague
Your driver picks you up at your preferred address in Prague.
Ride there

30–40 minutes

Sit back and relax in an air-conditioned minibus on the way to the event.
Briefing

15 minutes

Your English-speaking instructor gives you a safety briefing.
Gear
Get the needed equipment and learn how to use it.
Flyboarding

15 minutes

Enjoy the flyboarding!
Ride back

30–40 minutes

Your driver takes you back to your chosen address in Prague.
Drop-off in Prague
Embark on another Enjoy Prague experience, or simply enjoy the rest of your day in Prague!
26 customer reviews



Great service. Professionals and fun to be around! Felt very safe thru the whole experience.

This was an incredible experience!I happen to know Evzen and he is an incredibly courteous and enjoyable person/guide. Matthew, the instructor was so patient, answered all our question, took the time for us and made us feel, not only welcome, but safe. The experience is very eye opening. I am very glad we experienced it.


My brother and I had never been flyboarding before and the experience was awesome! The staff was friendly and helpful, they provided everything we needed, and flyboarding itself is unreal. We were picked up a our AirBnB and brought to and from the location as part of the package too, so we didn't have to worry about getting around.


Best costumer service ever!!!!
More about Flyboarding
The Flyboard is a water sports apparatus which allows propulsion under the water and in the air; it could be compared to a powered wakeboard. The nozzles under your feet put out 90% of the propulsion and allow movement by tilting your feet and tilting the Flyboard. The nozzles on the hands put out 10% of the propulsion and are used to help stabilisation much the same way as ski poles.