Lovely memories
Relaxing experience in beautiful nature.
Free return transfers
To and from your hotel.
Great locations
Horse riding in Prague and it's beautiful surroundings.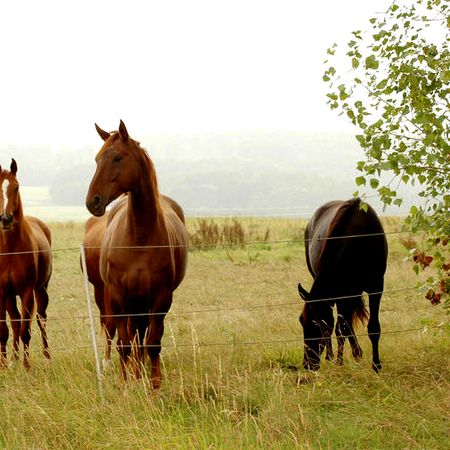 from €43
It only takes 2 minutes to book
Confirmation within 15 minutes
Book now to secure your spot
What is included
Pick-up & drop-off • on your preferred address
Both-way transfer • in an air-conditioned minibus
Instructor • the constant presence of an English speaking professional
Briefing • safety instructions
Ride • 20-minute to a 2-hour riding session
Refreshment • mineral water
excellent experience highly recommend

We went for a trail ride in the snow. What a great time!

Recommend it to all who is looking for a different experience!

Great experience, thank you Martina and Evzen and the instructors. Great customer service, pick up and drop off, amazing staff.

Totally worth it! One should definitely do it, undoubtedly!

Friendly operator with patience. Well arranged. First time for us but enjoyed it a lot. For sure, I would recommend!

it was for my a unique experience

🐎

A driver picked us up at our hostel and drove us to a beautiful house at the border of Prague. The horses are in good shape and look happy.

Had an amazing experience the first time going, so we went back again the next day.

It was amazing to have such beautiful horse riding experience in Prague!
4 Horse Riding packages
Orlik Dam, 75-minute ride from the centre of Prague
4.5 hours total (from pick-up to drop-off)
Orlik Dam, 75-minute ride from the centre of Prague
4 hours total (from pick-up to drop-off)
90 minutes of horse riding
Prague, 30-minute ride from the centre
2 hours total (from pick-up to drop-off)
40 minutes of horse riding
Prague, 30-minute ride from the centre
1.5 hours total (from pick-up to drop-off)
20 minutes of pony riding
When & where
Sep–Dec: pick-up available daily from 8 AM to 5 PM
1.5–4.5 hours total (from pick-up to drop-off)
Great professional team and loads of fun! Picked and dropped off from hotel. Always ensured maximum safety of everyone.1

Good experience to try in Prague! The team is serious and helpful.

Had a great trip with Enjoy Prague, felt taken care of from the get go. Overall a brilliant afternoon!! Recommend to anyone

Had a fabulous experience with Enjoy Prague. Very professional guys, great instructor, good fun. Must do experience.

Perfect excursion! Pick up and drop off was timely and efficient. Driver was friendly. No complaints!

Great experience. I will do it again. Great staff, great customer service, great everything. I can't wait to be in Prague again.

Absolutely fantastic service and great fun!!

Great day well organised, all the staff were very informative, wow what a day is all I can say.

Great afternoon out if you want something different to do, or it's something on your list of things do very friendly people
Description
The magical charm of the Czech Republic's stunning nature, makes this an ideal place for horseback riding.
The rural countryside of Prague, with its deep forests, green fields and rolling hills, make this an extremely pleasant place to explore, while riding one of our calm and friendly horses. Seeing and experiencing the most romantic parts of Prague's surroundings from a saddle, will give you a whole new perspective on the Czech Republic!
One of our trainers will select a horse that is suitable for your ability, choosing from gentle horses for beginners, and more challenging ones for experienced riders. Individual instruction on the control and management of your horse is provided before you set off. Once you feel confident enough with your horse, you can head off with our trained instructors, who are ready to assist you with anything you might need.
Pick-up in Prague
Your driver picks you up at your preferred address in Prague.
Ride there
Sit back and relax in an air-conditioned minibus on the way to the stable.
Briefing
Time to meet your horse and your guide. Look around the stable with many beautiful horses, listen to the short safety briefing and take your helmet on.
Horse ride
Enjoy the walk on your lovely horse trough the beautiful nature.
Ride back
Your driver takes you back to your chosen address in Prague.
Drop-off in Prague
Embark on another Enjoy Prague experience, or simply enjoy the rest of your day in Prague!
Notes
Wear comfortable clothes and tight shoes. The weight limit is 90 kg (200 lb).
98 customer reviews


Horse riding instructions of a highest quality! I definitely recommend it!


Really great time today, did a 2 hour trek it was lovely. The horses are well looked after and everyone was very friendly and helpful :) would recommend!


Great experience and amazing people! I had such a wonderful evening with them...riding horses!


I went for the horse riding and skydiving. Both trips were amazing, all the stuff very friendly and helpful, I had lots of fun. Everything very well organised, the online reservation was really easy and they even picked me up at my hotel and dropped there off after. For the skydiving I chose the option with the video and pictures, wchich was totally worth the money as I have really cool photos now. Thank to the whole Enjoy Prague team, you were great


We went for a trail ride in the snow. The horses were healthy and happy. Our guides were the perfect balance of safety and fun. What a great time!
More about Horse Riding
With a calm horse beneath you and the blue sky above, you can head off on a relaxing ride through the stunning countryside of Prague. Relax away from the crowds and long lines, with just the beauty of nature around you and the smell of clean, fresh air!