Only 1hr from Prague
Amazing trip to beautiful mountains.
Free pick-up & drop-off
Comfy transfer from your hotel to the ski resort & back.
All inclusive packages
Ski or snb gear, clothes, ski pass, instructors & lunch.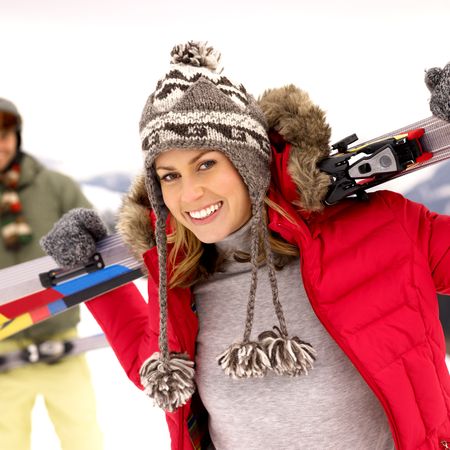 from CZK 5,200 / €210
It only takes 2 minutes to book
Confirmation within 15 minutes
Book now to secure your spot
What is included
Pick-up & drop-off • from & to your hotel in Prague
Both-way transfer • in a heated minibus
Ski pass • ski school area for beginners, or all slopes for experienced
Instructor • English speaking teacher for beginners (not included in programs for experienced - included in programs for beginners only)
Lunch or dinner • with a drink
Skiing gear • ski, ski poles, boots, helmet, goggles, gloves, skiing pants, and jacket
Snowboarding gear • snowboard, boots, helmet, goggles, gloves, snowboarding pants, and jacket
Wonderful experience and an extremely helpful instructor!

Booked the skiing package. It's very convenient that you don't need to plan anything.

Recommend to anybody who wish to get his adrenaline pumping.....I really loved it

Absolutely brilliant day trip. Great value for money, all equipment provided and a great meal to round off the day.

My 8yo had a fab time on his first time skiing and I would very much recommend Enjoy Prague to organize a trip.

Me, my partner and his parents had an amazing one-day ski experience with Enjoy Prague.

An amazing Skiing experience for beginners... For me, this is going to be a memorable experience for the rest of my life...

Thank you for this incredible experience! Everything was uncomplicated and therefore, I can only recommend it!

Amazing ski session run by professionals - book with Enjoy Prague for a great time and peace of mind!

Fantastic day trip and great value for money. No equipment (except good socks) needed, it's all provided on the day. Rock up n Sk
9 Skiing & Snowboarding packages
When & where
Dec–Mar: pick-up available daily from 7 AM to 2 PM
Ski Resort Moninec, Ski Resort Jested, or Ski Resort Spindleruv Mlyn
7–14 hours total (from pick-up to drop-off)
Really really good trip to the mountain!! No queues at all and sunny...perfect!

😊

Great day out for a stag party.

It was an amazing trip, my family enjoyed it very much. The instructors were great.

Everything from customer service all the way to skiing ⛷ and lunch was perfect. A great experience! Thank you

I've put down the deposit and the mini van was outside after an hour to take us skiing

Very nice ski experience to Jested! Very very good instructors, lots of free time! I definitely recommend them!

Very organised trip from the agent. Ski instructors were very helpful... ⛷️

👌

Even if you know how to ski well and are used to big stations, you will have a blast!:)

We take a trip to ski with enjoy Prague and it was incredible!

Pick up in the city center was correctly arranged. Very friendly assistance.
Description
Ski & snowboard school with professional instructors for first-timers and a big choice of easy to hard slopes for experienced ones are a guarantee of unforgettable fun in the snow!
Let us take you to this fantastic area for skiing, snowboarding, and cross-country skiing enthusiasts in the modern Ski Resort Jested in the Jizera Mountains located by the city of Liberec. This very place hosted Nordic World Ski Championship in 2009.
Everyone will find a suitable terrain according to their skills in this amazing winter sports area not far from Prague — experienced skiers as well as beginners and small children.
Pick-up in Prague
Your driver picks you up at your preferred address in Prague.
Ride to the mountains

1 hour and 15 minutes–1.5 hours

After leaving the city of Prague, we embark on a comfortable ride on the freeway towards Ski Resort Jested.
Gear selection

20 minutes

When we arrive, you receive waterproof clothes and a complete set of skiing or snowboarding gear, along with instructions on how to properly use it.
Snow action

3–4 hours

Beginners are introduced to a professional instructor from a local ski school, who will be teaching them the basics of skiing or snowboarding. The experienced ones are equipped with a ski pass and a map of the whole skiing area and may jump right into the snow adventure.
Meal & drink

45 minutes

After spending hours on the slopes, we invite you for a well-deserved meal and a drink in a local Czech restaurant.
Ride back

1 hour

Your driver takes you back to your chosen address in Prague.
Drop-off in Prague
Enjoy the rest of your day in Prague!
Notes
Take some warm clothes, gloves, and a hat!
139 customer reviews


Joined the skiing program for beginners with my mum and sister at the end of Dec/2019, we three had a wonderful time with the team, not only they choose wonderful resorts to cooperate with (I learnt how to play snowboard in 2hrs as a very beginner); also they show great flexibility on the managing everyone's experience on the same schedule. Unlike with some other tours that you could expect a fixed routine with Class>Lunch>Free time, you have to compromise either your meal time or free time on the field; Our lovely guide Kate, who is outstandingly considering, doesn't mind at all she has to go back and forth few more times to pickup all the people together, encouraging me to enjoy fully with my first snowboard experience, truly appreciated! Can't recommend them as the best Prague activities tour company enough, you just won't regret!


Brilliant service. We booked a day trip skiing just after Christmas and the team made the impossible possible! Great communication, fab pick up and journey to the ski school, everything was super smooth and fun. My 8yo had a fab time on his first time skiing and I would very much recommend Enjoy Prague to organise a trip.


we take a trip to ski with enjoy Prague and it was incredible! Bob and Martina was a great! We were in a group of beginners, the guide was very patient and good explaining, took us some time to study but was worth the trip, the lunch was amazing with beer and coffee at the end, strongly recommends to choose a ski trip for beginners with Martina and Bob


Me, my partner and his parents had an amazing one-day ski experience with Enjoy Prague. It was easy to book and the whole day was planned out perfectly. Transfers, ski rentals, clothing, ski passes and lunch all included. Katia and Petra were wonderful hosts and guides, easy to get on with and attentive to our needs. Two of our group were complete beginners and found Katia to be an amazing instructor, giving them confidence on the slopes. Me and my partner enjoyed our few hours of freedom to explore the slopes alone! We will definitely be using Enjoy Prague again, it's amazing value for money and would recommend the company to anyone looking for an easy day on the slopes, whether novice or pro!


Amazing ski session run by professionals - book with Enjoy Prague for a great time and peace of mind!
More about Downhill Skiing & Snowboarding
Other goodies to look forward to:
1 cable railway, 2 quads, and 1 double chair lift, 5 cable tows, and 2 rope tows for kids
12 km (40,000 ft) of ski slopes offering various levels of difficulty